Will You Take This Woman?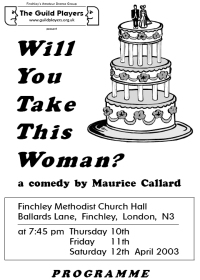 by Maurice Callard
Directed by Judith Shrank
April 2003
Thursday 10th at 7.45 pm
Friday 11th at 7.45 pm
Saturday 12th at 7:45pm
There are some pictures on Will You Take This Woman gallery page
The full programme [106K pdf] for this production is available from the archive
Herbert & Pauline Farson are keen that their eldest daughter Fiona should marry her new boyfriend Gerald Dunjon, but he seems to need some persuasion to pop the question. Six months ago she was due to wed Johnny Spinet, but he failed to show up at the church.
Their youngest daughter Jenny, an enthusiastic but hopeless cook, has been talent spotted by Derek Colbert, the film producer. However, they are dubious about his motives.
In the chaotic Farson household things never go to plan. The Vicar is in a permanent state of confusion and Melinda thinks she has met Gerald's father before. Then an uninvited guest suddenly turns up out of the blue...
Setting
The living room of the Farson's house in a south-coast town. It is early August in the late 1950s.
Act 1
Scene 1. Early one evening
Scene 2. Later the same evening
Act 2
Scene 1. Some days later, mid morning
Scene 2. Early afternoon, the same day
Scene 3. A couple of hours later
Cast
Herbert Farson
Stewart Shrank
Pauline Farson
Sally Martin
Jenny Farson
Jennifer Lewis
Fiona Farson
Vikki Harris
The Vicar
Laurie Heatherington
Gerald Dunjon
Nick Johnson
Derek Colbert
Ari Gnanamuttu
Aunt Melinda
Michelle Renée
Ivy Dunjon
Margaret Johnson
Ronald Dunjon
Paul Sparks
Johnny Spinet
David Constable
Production Team
Director
Judith Shrank
Set Design & Construction
David Constable
Mike Sparks
Costumes
Jenny Sparks
Irene Sparks
Lighting
Brian Clayfield
Stage Management
Jill Brooksbank
Mike Sparks
Prompt
Betty Robertson
Front of House Manager
Bill Davey
Box Office
Betty Burgess
Norman Burgess
Programme & Publicty
David Constable