The Fumblings At Friar's Bottom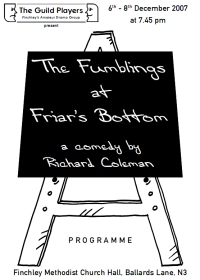 a comedy by Richard Coleman
Directed by Mike Sparks & Laurie Heatherington
December 2007
Thursday 6th at 7.45pm
Friday 7th at 7.45pm
Saturday 8th at 7.45pm
The full programme [95K pdf] for this production is available from the archive
Friar's Bottom, a crumbling public school, is holding its annual open day. As the motley collection of teachers prepare themselves to meet the parents it is discovered that the valuable "Friarís Trophy" has gone missing. The school is owned by Trundle and Gertrude Blathercock who are secretly planning to sell the site to an American property developer. Getting wind of their intentions, some of the staff hatch a plan to save the school with help from the Rev Pottington Willis. Meanwhile, dodgy bookmaker Checkers Swindell is hanging around attempting to retrieve gambling debts from Timperney Snout, the art teacher. Eventually Inspector Manners arrives to sort out exactly what is going on.
The Guild Players presented another of Richard Coleman's farcical comedies - "The Affairs At Meddler's Top" - in 2006
Setting
Open Day at Friar's Bottom Boarding School for Girls & Boys
Act 1
Scene 1 - The Staff Room
Scene 2 - The Cloisters
Scene 3 - The Staff Room
Scene 4 - The Cloisters
Scene 5 - The Cloisters
Scene 6 - The Staff Room
Act 2
Scene 1 - The Cloisters
Scene 2 - The Staff Room
Scene 3 - The Art Room
Scene 4 - The Staff Room
Scene 5 - The Cloisters
Scene 6 - The Staff Room
Cast
Monitor, a schoolboy
Michael Lamb
Dr Mildew Sponge, schoolmaster & narrator
Alan Jobson
Professor Windfall Crouch, philosophy teacher
Stewart Shrank
Violet Bodkin, sports mistress
Lorainne Steenson
Prissy Culottes, french mistress
Rachel Fulford
Timperney Snout, art teacher
Jeffrey Benge
Crumble, school porter
Paul Sparks
Herbert B. Sloophanger, an american
Ian Antony-Paul
Wilhemena Sloophanger, his wife
Penni Nachir
Trundle Blathercock, headmaster of Friar's Bottom
Alan Kenny
Gertrude Blathercock, headmistress of Friar's Bottom
Sally Martin
Checkers Swindell, a bookmaker
David Constable
Rev. Pottington Willis, school chaplain
Stephen Sewell
Inspector Manners, a plain clothes police officer
Helen Costin
Dorothy Flingem, a horse trainer
Rachel Kudlick
Mrs Crumble, wife of the school porter
Sue Efthimiou
Production Team
Directors
Mike Sparks
Laurie Heatherington
Prompt
Betty Robertson
Costume
Jenny Sparks
Members of the Cast
Lighting
Martin Higgins
Andy Higgins
Stage Management
Ari Gnanamuttu
Set Construction
David Constable
Mike Sparks
Front of House Management
Members of The Guild Players
Box Office
Betty Burgess
Programme & Publicty Design
David Constable
Programme Notes
Welcome to the Guild Players autumn production 2007. We have presented a Christmas pantomime on alternate years since 1993. Unfortunately major works to the church heating system have put the stage, green room and wardrobe out of use for nearly 6 months. Instead we present this stripped back production of a light comedy in a slightly 'pantomime' style.
Review
The Archer, East Finchley's community newspaper, printed a review on page 10 of the January 2008 issue.
Not quite a pantomime
by Daphne Chamberlain
What does a drama group do when building work puts most of their rehearsal and storage space out of action for nearly six months? The Church End-based Guild Players decided the show must go on, but with a break from tradition. So, for the first time since 1993, their winter production was not a pantomime. With the absolute minimum of props and a virtually bare stage, they put on a light comedy "in a slightly pantomime style".
For me, the pantomime style was the best part of the evening, and I think it could have been developed more.
The Fumblings at Friar's Bottom, about a boarding school facing a sell-out to American tycoons, seemed a bit static, but was livened up by a masterly performance from Alan Jobson as Dr Mildew Sponge. Sporting a mortarboard and cane, this character brought audience participation into the proceedings. Treating us as a particularly backward class, he bombarded us with a manic quiz between scenes. Get the answers right, and you got a sweet. Get them wrong, and you wore a dunce's hat.
The play itself included some clever little acting cameos, but might have benefited from similar direct contact with the audience. It would have been fun to have some comments from the stage to us. I felt we needed to be drawn into the plot.
The Guild Players meet at Finchley Methodist Church, Ballards Lane. Their next production is at the end of April. New members are always welcome, whether as performers or backstage.