Murder In Play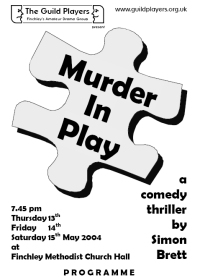 a comedy thriller by Simon Brett
Directed by Jennifer Lewis
May 2004
Thursday 13th at 7.45 pm
Friday 14th at 7.45 pm
Saturday 15th at 7.45pm
There are some pictures on Murder In Play gallery page
As this production features a play within a play, the audience were provided with TWO programmes:
Both are available from the archive
Boris Smolensky's budget production of 'Murder at Priorswell Manor' is in final rehearsals. Things are not going well, when life imitates art and one of the cast is murdered on stage.
Who could have done it? And how?
The rampant egos amongst the inept company of actors mean that each could have a motive: Christa, a fading soap actress, the monstrous director himself, or perhaps his dippy mistress. What is the relationship between Boris and Pat the stage manager, and can any of them put up with Harrison's dire theatrical anecdotes for much longer? Or are they all just red herrings?
Despite all the drama offstage, the show must still go on...
Setting
The set for 'Murder At Priorswell Manor' on the stage of St George's Theatre, Eastcliff-On-Sea
Act 1
A summer afternoon
Act 2
Scene 1 - Six days later
Scene 2 - The following day
Cast
Renee Savage / Lady Dorothy Cholmondley
Margaret Johnson
Tim Fermor / Major Rodney Pirbright
Nick Johnson
Ginette Vincent / Lady Virginia Cholmondley
Ruth Griffiths
Christa d'Amato / Mrs Puttock / Lady Dorothy Cholmondley
Kirsty Lincoln
Sophie Lawton / Triggs / Lady Virginia Cholmondley
Amy Simpson
Harrison Bracewell / Mr Papadopoulos / Detective Inspector Delver
Paul Sparks
Boris Smolensky
Spencer Clayton
Pat / Mrs Puttock
Cecilia Briginshaw
Production Team
Director
Jennifer Lewis
Stage Management
David Constable
Paola Burgess
Nick Drewry
Costumes
Jenny Sparks
Lighting
Anne Davies
Set Design, Construction & Decoration
David Constable
Paola Burgess
Nick Drewry
Anne Davies
Prompt
Betty Robertson
Front of House Manager
Mike Sparks
Box Office
Betty Burgess
Norman Burgess
Programmes & Publicity
David Constable