Murder! Mystery! And Suspenders?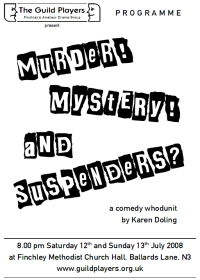 a comedy whodunit by Karen Doling
Directed by Mike Sparks and David Constable
July 2008
Saturday 12th at 8.00pm
Sunday 13th at 8.00pm
The full programme [53K pdf] for this production is available from the archive
There are some pictures on Murder! Mystery! And Suspenders? gallery page
Sir Timothy De'Ath has been found murdered in the library of his home. There is a mystery to be solved but everyone is acting suspiciously.
Constance Payne seems to spend all her time at women's lib meetings. Ivor Payne keeps popping round to see Megan De'Ath, the victim's daughter. Harry Flash regularly turns up at the house with deliveries of boxes. With a collection of dotty maids and typically blunt policemen, all of the usual suspects are present...
...plus a suspender belt. Just like their alibis, it could lose its elasticity at any minute.
Whodunit? Who knows?!
Setting
The library at the home of Sir Timothy De'Ath
Act 1
1. Thursday morning
2. Friday morning
3. Saturday morning
4. Later that day
5. Two years earlier
6. Saturday evening
Act 2
1. Sunday evening
2. A few days later
3. The next day
4. The next day
5. Later that night
6. The next day
Cast
Sir Timothy De'Ath, the victim
Ian Antony-Paul
Bull, the old retainer
Mike Sparks
Megan De'Ath, daughter of the deceased
Sally Martin
Constance Payne, a womens's libber
Penni Nachir
Dotty, a maid
Carol Renfrew
Inspector Butler, a policeman
Paul Sparks
Ivor Payne, husband of Constance
Jeffrey Benge
Harold 'Harry' Flash, a delivery man
Michael Lamb
Chief Inspector Corner
Ian Antony-Paul
Production Team
Director
Mike Sparks
David Constable
Costume
Jenny Sparks
Lighting
Martin Higgins
Andy Higgins
Box Office
Betty Burgess
Programme & Publicity Design
David Constable
Programme Notes
Welcome to the Guild Players fourth and final production of the 2007/08 season - Karen Doling's "Murder! Mystery! and Suspenders?"
We hope you will find this light and amusing piece just the thing for a summer evening.
Building on the success of our regular Holy Week touring productions, tonight we are using our recently acquired portable staging to change the layout of the hall. We hope this experimental setup will provide both a different viewpoint for the audience and a new challenge for the actors.
The first show of our 2008/09 season will be the pantomime "Aladdin". Performances will be on 10th to 13th December.