Future Productions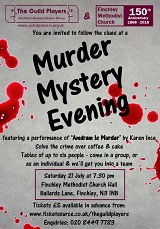 Murder Mystery Evening
7.30 pm Saturday 21 July 2018
at Finchley Methodist Church Hall, Ballards Lane, Finchley, N3 1NB
Featuring a performance of 'Amdram Is Murder' by Karen Ince.
Solve the crime over coffee & cake.
Tables of up to six people - come in a group, or as an individual and we'll get you into a team.
Tickets £5
Doors open at 7.00 pm
Tickets Online
Visit our box office page at www.ticketsource.co.uk/theguildplayers to book tickets and pay by credit or debit card.
NO booking fee charged.
Please note that we can ONLY accept credit & debit card payments online. Cash only at the door.
TBA
Thursday 22 - Saturday 24 November 2018
All the above dates are subject to confirmation
There is a full list of Guild Players dates on the diary page
Join our audience mailing list to be kept informed of the details of our productions