Future Productions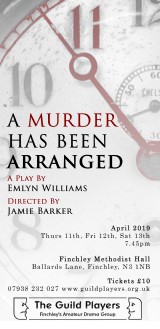 A Murder Has Been Arranged
a play by Emlyn Williams
directed by Jamie Barker
7.45 pm Thursday 11 April 2019
7.45 pm Friday 12 April 2019
7.45 pm Saturday 13 April 2019
at Finchley Methodist Church Hall, Ballards Lane, Finchley, N3 1NB
It's 26th November 1930. Sir Charles Jasper's fortieth birthday. He's due to inherit two million pounds and plans to celebrate the occasion with a party on the stage of the St. James' Theatre, supposedly haunted because of several mysterious deaths years ago. The merriment is interrupted however by his missing nephew, who also stands to inherit the fortune should Sir Charles die before eleven o'clock, setting a fatal chain of events in motion.
An amateur production by arrangement with Samuel French Ltd
All Tickets £10
Group discount - purchase ten or more tickets in one transaction and pay £9 each. No Refunds.
Foyer opens at 7.15 pm
Booked tickets should be collected AT LEAST 10 MINUTES before the performance starts.
Enquiries: 07938 232 027
If you have any special requirements (wheelchair spaces etc.) please alert us at time of booking.
Tickets Online
Visit our box office page at www.ticketsource.co.uk/theguildplayers to book tickets and pay by credit or debit card.
NO booking fee charged.
You can now choose your own seats from the online seating plan
Please note that we can ONLY accept credit & debit card payments online - NOT by phone or at the door.
Tickets On The Door
Please allow plenty of time to purchase your tickets before the show starts. Payment by cheque or cash.
TBA
Thursday 5 - Saturday 7 December 2019
All the above dates are subject to confirmation
There is a full list of Guild Players dates on the diary page
Join our audience mailing list to be kept informed of the details of our productions