Future Productions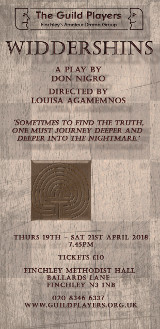 Widdershins
a play by Don Nigro
7.45 pm Thursday 19 April 2018
7.45 pm Friday 20 April 2018
7.45 pm Saturday 21 April 2018
at Finchley Methodist Church Hall, Ballards Lane, Finchley, N3 1NB
"On a rainy night I wander here in another man's labyrinth, haunted by a dead woman, attempting to solve a murder mystery which is ever and always the same mystery, the one inside my own soul, the mystery of love and grief, the geography of loss, in the labyrinth of time and madness."
In a peaceful house near the Welsh border, an entire family has vanished suddenly without a trace one evening, with supper on the table and no apparent violence. Inspector Ruffing's attempt to understand what's happened to a couple and their two daughters leads him deep into his own dark soul.
An amateur production by arrangement with Samuel French Ltd
All Tickets £10
Group discount - purchase ten or more tickets in one transaction and pay £9 each. No Refunds.
Foyer opens at 7.15 pm
Booked tickets should be collected AT LEAST 10 MINUTES before the performance starts.
Box Office enquiries: 020 8346 6337
If you have any special requirements (wheelchair spaces etc.) please alert us at time of booking.
Tickets Online
Visit our box office page at www.ticketsource.co.uk/theguildplayers to book tickets and pay by credit or debit card.
NO booking fee charged.
Please note that we can ONLY accept credit & debit card payments online - NOT by post, phone, or at the door.
Tickets By Post
Print out a booking form and return it with a cheque to:
Guild Players Box Office, C/O 28 Vines Avenue, Finchley, London, N3 2QD
Please enclose a stamped self-addressed envelope if you want your tickets sent to you.
Tickets On The Door
Please allow plenty of time to purchase your tickets before the show starts. Payment by cheque or cash.
TBA
Thursday 22 - Saturday 24 November 2018
All the above dates are subject to confirmation
There is a full list of Guild Players dates on the diary page
Join our audience mailing list to be kept informed of the details of our productions