Future Productions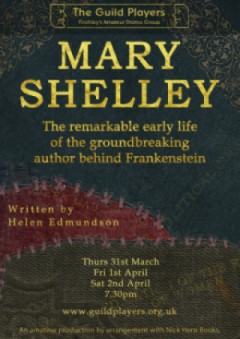 Mary Shelley
by Helen Edmundson
directed by Caroline Knell
7.30 pm Thursday 31 March 2022
7.30 pm Friday 1 April 2022
7.30 pm Saturday 2 April 2022
at Finchley Methodist Church Hall, Ballards Lane, Finchley, N3 1NB
The remarkable early life of the groundbreaking author behind Frankenstein.
"We cannot let our lives be small. There is no life but loving"
This compelling play explores a crucial episode in the early life of Mary Shelley - her meeting and scandalous elopement with Percy Bysshe Shelley, and its consequences for her sisters, her stepmother, and her troubled father, the political philosopher William Godwin.
This amateur production is presented by arrangement with Nick Hern Books.
All Tickets £10
Foyer and auditorium open at 7.00 pm
Enquiries: 07938 232 027
Wheelchairs can be accommodated on the outer aisles in place of seat numbers 1 or 14 on each row. Please contact the Box Office when booking so that the relevant seat can be removed in advance.
Tickets Online
Visit our box office page at www.ticketsource.co.uk/theguildplayers to book tickets and pay by credit or debit card.
NO booking fee charged.
You can choose your own seats from the online seating plan
A small number of tickets may be available on the door, subject to availabilty. Advance booking is recommended.
Parking near the venue is limited, so allow time to find a space and walk up.
Arrive by 7.25 for curtain up at 7.30
Trigger Warning
The play contains themes of suicide and infant death.
Covid-19
Wearing of face masks will be encouraged.
Hand sanitiser will be available in the foyer.
Contactless payment will be available for refreshments.
The Guild Players will abide by any additional health measures in place at the time of the performance.
TBA
Thur 8th to Sat 10th December 2022
All the above dates are subject to confirmation
There is a full list of Guild Players dates on the diary page
Join our audience mailing list to be kept informed of the details of our productions