The Wonderful Story Of Mother Goose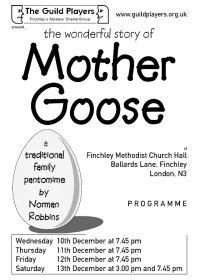 a traditional family pantomime by Norman Robbins
Director - Mike Sparks
Musical Director - Carole Catley
Choreographer - Kelly Rubin
December 2003
Wednesday 10th at 7.45pm
Thursday 11th at 7.45pm
Friday 12th at 7.45pm
Saturday 13th at 3.00pm and 7.45pm
The full programme [135K pdf] for this production is available from the archive
Poor old Mother Goose and her family are being thrown out of their humble cottage by the Squire of Merrilea. The Fairy Queen decides to help her out by sending Priscilla, a magical goose, who proceeds to lay golden eggs. But can these great riches bring Mother Goose lasting happiness?
Act 1
Prologue
1. The Village of Merrilea
2. A Quiet Street
3. The Village School
4. A Quiet Street
5. The Ballroom of Goose Grange
Act 2
1. The Grounds of Goose Grange
2. Outside Cheatem Hall
3. Beside the Witch's Pool
4. A Quiet Street
5. The Court of the Fairy Queen
6. Back in Merrilea
7. The Ballroom of Goose Grange
Cast
The Fairy Queen
Margaret Johnson
Harmony, the good fairy
Emma Brown
Discord, the wicked fairy
Judith Shrank
Clarence Creep, the village Squire
Laurie Heatherington
Jill Goose, the village belle
Kirsty Lincoln
Colin, her sweetheart
Michelle Nymphe
Billy Goose, Jill's elder brother
Paul Manel
Sage &
Lynda Gordon
Onions, the Squire's bailiffs
David Constable
Mother Goose, a poor widow
Alan Jobson
Priscilla, the magic goose
Victoria Harris
Village People
Cecilia Briginshaw
Bill Davey
Ari Gnanamuttu
Ann Hefford
Mari I'Anson
Jennifer Lewis
Stewart Shrank
Paul Sparks
Band
Piano
Simon Andersen
Cello
Jill Clarke
Flute
Kirsty Tavendale
Keyboard / Recorder
Carole Catley
Guitar
Harry Mackie
Drums & Percussion
Charles Harvey
Production Team
Director
Mike Sparks
Musical Director
Carole Catley
Choreographer
Kelly Rubin
Stage Manager
Nick Johnson
Set Design & Construction
David Constable
Mike Sparks
& members of the cast
Scenic Artist
Mari I'Anson
Costumes
Jenny Sparks
Irene Sparks
Lighting
Brian Clayfield
Jon Sparks
Jill Brooksbank
Chris Newton
Prompt
Betty Robertson
Rehearsal Pianist
Simon Andersen
Company Support
Vera Mitchell
Front of House Manager
John Savage
Box Office
Betty Burgess
Norman Burgess
Programme & Publicty
David Constable
Wedgewood writes...
Since no one actually knows the story of Mother Goose, this is a pantomime which you go to in hope rather than expectation. The Norman Robbins version of the tale was served up by The Guild Players on 10th to 13th December 2003 at Finchley Methodist Church Hall, under the direction of Mike Sparks.
Despite the charm of Fairy Harmony (the enjoyable Emma Brown) and the commanding evil of Fairy Discord (the excellent Judith Shrank), I am far from certain that the prologue worked as intended. The Fairy Queen (Margaret Johnson) as a disembodied voice coming out of the ether was not really convincing, although she did turn up in person late on in the show.
The panto which followed was up to the Guild Players usual standard with Alan Jobson again making the Dame's role his own, opposite Squire Clarence Creep played by Guild Players regular Laurie Heatherington and a shining new comer in Paul Manel as Billy Goose. Michelle Nymphe had the right figure and approach to her part as Colin (the Principal Boy). She gave the production pace and vigour along with Kirsty Lincoln as a coy but likeable Jill Goose, the village belle.
The age old combination of little and large worked again with Lynda Gordon and David Constable as Sage and Onions, the Squire's bailiffs, and the programme revealed that the Goose contained Victoria Harris.
Cecilia Briginshaw, Bill Davey, Ari Gnanamuttu, Ann Hefford, Mari I'Anson, Jennifer Lewis, Stewart Shrank and Paul Sparks made certain that chorus scenes were full. Ari and Jennifer also featured with the Principals in some of the dance routines created by Choreographer Kelly Rubin.
Songs selected seemed to fit characters - maybe a few newer numbers would not have come amiss. The choruses were bright but some of the dancers lacked a sense of certainty about what they were doing. The stage sets were first class productions from local artist Mari I'Anson.
The production scored highly on the music front with a six-piece band led by Musical Director Carole Catley.
I see a number of amateur pantomimes each year and, all in all, for a Company who see themselves as actors who sing, rather than singers who act, I think the Guild Players did a convincing job on both fronts with their Mother Goose.
'Wedgewood'