The Affairs At Meddler's Top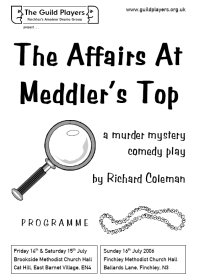 a murder mystery comedy play by Richard Coleman
July 2006
8.00 pm Friday 14th & Saturday 15th
at Brookside Methodist Church Hall, East Barnet
8.00 pm Sunday 16th
at Finchley Methodist Church Hall, Finchley
The full programme [68K pdf] for this production is available from the archive
There are some pictures on The Affairs At Meddler's Top gallery page
Sir Hector Croquet is holding a tennis weekend at his country home, "Meddler's Top". Among the invited guests are Baroness Svetlana Gorianova, theatrical producer Bouffant Éclair, fading tennis star Peregrine Barrington-Smythe, actress Trellis Trelawney, and the explorer Twitter Fortesque. There is a jewel thief at large in the area and Hector is concerned that Lady Davinia's emerald necklace may be the next target. A quick phone call ensures that Inspector Topiary and Sergeant Manners are on their way...
Setting
The Court of Justice Grimble Doggerel
Sir Hector Croquet's country house, "Meddler's Top"
Cast
Watt, the Usher
Stephen Sewell
Judge Grimble Doggerel
Stewart Shrank
Penelope Grabbit, the Prosecution
Lorainne Steenson
Geraldine Trimble, the Defence
Penelope Nachir
Sergeant Manners
Kerrina Mathews
Inspector Topiary
Paul Theo
Lady Davinia Croquet
Sally Martin
Sir Hector Croquet
Paul Sparks
Petunia Fawcett-Ellington
Jadwiga Laskowska
Cook
Maureen Mathews
Glossop, the butler
Mike Sparks
Bouffant Éclair
Alan Kenny
Peregrine Barrington-Smythe
Nick Drewry
Twitter Fortesque
Ciarán Ward
Baroness Svetlana Gorianova
Maggie Yescombe
Trellis Trelawney
Paola Burgess
Lettis Croquet
Jo Micallef
Production Team
Director
Judith Shrank
Production Manager
David Constable
Prompt
Helen Costin
Lighting
Martin Higgins
Andy Higgins
Costume
Jenny Sparks
Front of House Manager
Laurie Heatherington
Box Office
Betty Burgess
Programme Notes
Welcome to the Guild Players summer production. This year we are making a change from our regular one night 'anthology' summer show. We are pleased to present a fully staged play for two nights at a different location, plus an extra performance back at our 'home' venue.
From September 2006, Brookside Methodist Church in East Barnet and Finchley Methodist Church in Ballards Lane will have closer links. All the Methodist Churches in the borough are coming together to form a new 'Barnet Circuit'. We hope that this light comedy will be an entertaining introduction to the Guild Players if you haven't been to one of our productions in Finchley before.
The Guild Players have been meeting and performing at Finchley Methodist Church since 1946. Initially starting as the drama section of 'The Wesley Guild' (hence the name), the group now welcomes members from all parts of the borough of Barnet and beyond. Our stage at Finchley came about due to the government turning the church hall into a 'British Restaurant' during the second world war! You can read more about that and further details of the group at www.guildplayers.org.uk