Holmes Sweet Holmes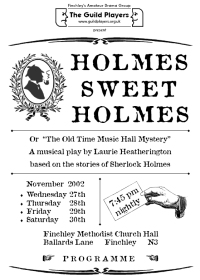 or "The Old Time Music Hall Mystery"
Written & Directed by Laurie Heatherington
A musical play based on the stories of Sherlock Holmes
Loosely based on "A Scandal in Bohemia" & "The Case of the Illustrious Client" by Sir Arthur Conan Doyle
November 2002
Wednesday 27th at 7.45 pm
Thursday 28th at 7.45 pm
Friday 29th at 7.45 pm
Saturday 30th at 7.45 pm
There are some pictures on Holmes Sweet Holmes gallery page
The full programme [364K pdf] for this production is available from the archive
Programme Notes
The Guild Players first performed this piece back in 1988, on the centenary of the appearance of the very first Sherlock Holmes story, "A Study in Scarlet". Fourteen years on and this revival coincides with both the centenary of Conan Doyle's knighthood and the publication of "The Hound of the Baskervilles" in The Strand Magazine. Last month Sherlock Holmes became the first fictional character to be awarded an honorary fellowship by The Royal Society of Chemistry for being the first detective to exploit chemical science as a means of solving crime. This play is itself a fiendish bit of alchemy, blending together elements of two Sherlock Holmes stories, mixing in a selection of period songs, and setting the result upon the stage of a Victorian Music Hall.
Act I
1 : An Old London Town Street
2 : Holmes's Rooms at 221b Baker Street
3 : The Stage of the Old Collins Music Hall
4 : Backstage at the Music Hall
5 : Holmes's Rooms at 221b Baker Street
6 : An Old London Street
Act II
1 : The Stage of the Old Collins Music Hall
2 : Outside Briony Lodge, St Johns Wood
3 : Inside St Monica's Church
4 : Backstage at the Music Hall
5 : An Old London Town Street
Cast
Beerbohm Stump, adroitly adept at alliteration
Laurie Heatherington
Sherlock Holmes, the doyen of detectives
David Constable
Dr John Watson, his solid supporter
Mike Sparks
Gertrude Hudson, landlady extraordinaire
Judith Shrank
The King of Bohemia, a man of mystery
Paul Sparks
The Baker Street Irregulars, tattered but true
Wiggins
Lynda Gordon
Smuggins
Victoria Ferri
Higgins
Tej Agheda
Noggins
Vikki Harris
Irene Adler, the diva divine
Catherine Weaver
Tillie, feats of strength and memory
Jill Brooksbank
Kitty Winter, springing from the chorus
Jennifer Lewis
Godfrey Norton, seen by all the best judges
Nick Johnson
Violet de Merville, only a soldier's daughter
Kirsty Lincoln
The Baron Gruner, elegantly evil
Bill Davey
Gorgiano, dastardly deeds dreadfully done
Beryl Cotton
Professor Moriarty, still an infant in infamy
Stewart Shrank
Shinwell Johnson, the cockney coster
Ari Gnanamuttu
The Chorus of the Old Collins Music Hall
Sally Martin
Ann Hefford
& Members of the Company
Band
Musical Director and Piano
Carole Clarke
Flute
Kirsty Tavendale
Guitar
Harry Mackie
Drums
Charles Harvey
Production Team
Stage Manager
Nick Johnson
Set Construction
David Constable
Mike Sparks
Scenic Artists
Mari I'Anson
Beryl Cotton
Sinead Hughes
Costumes
Jenny Sparks
Irene Sparks
Lighting
Brian Clayfield
Prompt
Betty Robertson
Company Manager
William Lloyd
Company Support
Vera Mitchell
Front of House Management
John Savage
Alan Jobson
Box Office
Betty Burgess
Norman Burgess
Programme & Publicity
David Constable
Wedgewood writes...
The Guild Players tell me that they only do Pantomime once every two years. Their presentation of Laurie Heatherington's clever adaptation of two Conan Doyle short stories sometimes came very close to proving this not to be the case.
Set in an Old Time Music Hall this was a production which had all the colour and music of pantomime close coupled with much of the smooth Victoriana which is essentially Conan Doyle. The actors therefore had to be very careful that they did not sink into a traditional over the top Panto style at the cost of losing Heatherington's very clever working of these two Sherlock Holmes stories.
The performance I saw did seem to lack some of the pace which I might have expected from a Music Hall setting, and some of those I spoke to in the audience did feel that it was difficult to hear some of the dialogue. This aside, we had two hours very acceptable entertainment from a twenty-one strong Company that contained a wide variety of age range and ability levels. It was clear to me that this was a company of actors who were also singing, rather than a company of singers who were acting!
With some thirty or so Music Hall songs, some well known, some adaptations to fit the plot, the four piece band led by Carole Clarke did well to keep proceedings on track. Words of some of the songs were printed in the programme, but seeing them in the darkened hall was something of a challenge.
Not only did Laurie Heatherington write and direct the production, he also led from the front by taking the role of Music Hall Chairman. There were particularly strong performances from David Constable (Holmes); Mike Sparks (Watson); Judith Shrank (Mrs Hudson); and Jennifer Lewis (Kitty Winter). Good support came from Paul Sparks (King of Bohemia); newcomers Catherine Weaver (Irene Adler) and Kirsty Lincoln (Violet de Merville); and from Jill Brooksbank (Tillie) and Guild Players regular Nick Johnson (Godfrey Norton).
The diffident dancing which accompanied some of the songs was rescued by Ari Gnanumuttu's (Shinwell Johnson) masterclass in Act 2. Where the production really almost lapsed Pantomime was with the baddies. Baron Gruner (Bill Davey); and his sidekicks Moriarty (Stewart Shrank); and Gorgiano (Beryl Cotton) could have been the Squire and Brokers men from any Panto you care to mention.
Sherlock Holmes band of Baker Street Irregulars were played by Lynda Gordon; Victoria Ferri; Tej Agheda; and Vikki Harris. Other members of the cast were Sally Martin and Anne Hefford.
The excellent costumes by Jenny and Irene Sparks added to a good evening's entertainment from a Company which is confident enough to ring the changes in it's productions.
'Wedgewood'