The Tinmaster's Tale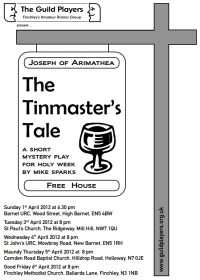 a short mystery play for Holy Week by Mike Sparks
April 2012
Sunday 1st at 6.30 pm
Barnet URC, Wood Street, High Barnet, EN5 4BW
Tuesday 3rd at 8 pm
St Paul's Church, The Ridgeway, Mill Hill, NW7 1QU
Wednesday 4th at 8 pm
St John's URC, Mowbray Road, New Barnet, EN5 1RH
Maundy Thursday 5th at 8 pm
Camden Road Baptist Church, Hilldrop Road, Holloway, N7 0JE
Good Friday 6th at 8 pm
Finchley Methodist Church, Ballards Lane, Finchley, N3 1NB
Setting
The action of the play takes place in the bar of 'The Shepherd and Crook Inn', Jerusalem.
Cast
Inn Keeper
Jeffrey Benge
Roman Guard 1
Stephen Sewell
Roman Guard 2
Mike Sparks
Jessie (Innkeeper's wife)
Carolyn Liang
Ruth (wife of Joseph's servant)
Carmel Gallagher
Mary (Joseph's wife)
Sally Martin
Production Team
Director
Mike Sparks
Technical
Martin Higgins
Andy Higgins
Publicity
David Constable
Costume
Jenny Sparks
Rehearsal Support
Paul Sparks
Sue Stadler
Programme Notes
Who Was Joseph of Arimathea?
No one really knows is the straight answer. Google his name on the internet and all sorts of suggestions can be found as to who he was, when he lived and what he did.
It is widely believed that Joseph actually travelled to England and that the Glastonbury thorn bush struck from his very staff!. Some think that Jesus was a relative of Joseph and that He came to England with him on one of his quests, but nobody can really tell.
That Joseph had at least some connection to Jesus is borne out by the fact that the Bible tells us it was Joseph who provided Christ's last resting place on earth. That could not have been an easy thing for anyone to do having regard to all that had been happening in Jerusalem at the time of the crucifixion and Joseph must have had a clear reason for doing so.
So I have drawn on a number of sources in writing the piece we will play for you today. I have made a number of assumptions in an attempt to make the piece flow and give it some semblance of believability. All the characters are, of course, completely Fictitious but I hope they might help in understanding the background to what must have been a confusing situation.
Mike Sparks