Pilate's Wife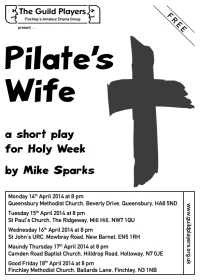 a short play for Holy Week by Mike Sparks
April 2014
Monday 14th at 8 pm
Queensbury Methodist Church, Beverly Drive, Queensbury, HA8 5ND
Tuesday 15th at 8 pm
St Paul's Church, The Ridgeway, Mill Hill, NW7 1QU
Wednesday 16th at 8 pm
St John's URC, Mowbray Road, New Barnet, EN5 1RH
Maundy Thursday 17th at 8 pm
Camden Road Baptist Church, Hilldrop Road, Holloway, N7 0JE
Good Friday 18th at 8 pm
Finchley Methodist Church, Ballards Lane, Finchley, N3 1NB
Setting
The play is acted out in Pilate's Palace in Jerusalem at the time of the crucifixion of Christ.
Cast
Percula (Pilate's wife)
Louisa Agamemnos
Miriam (her maid)
Sally Martin
Pilate
Michael Lamb
Production Team
Director
Mike Sparks
Technical
Andy Higgins
Martin Higgins
Costume
Jenny Sparks
Programme Notes
This is the latest in the series of 'mystery' style plays written around the Holy Week story. The plays have all tried to visit the events of that week through the eyes of people who might have been there. Some did not play important roles in the playing out of the story, or were observers of what went on, others had a much more significant hand in the events of that week.
Jerusalem at the time was a city of divided loyalties, and divided responsibilities. The Romans were the military authority and were in control but the 'civil authorities' such as the Temple Priests and the titular King Herod also had some power and influence.
The Roman Governor, Pilate, is an interesting character and worth investigating. He spent some time in Judea but was not really likes either in Rome or in Judea because of some of the things he did.
His wife, known in various writings as Percula, Procula, Claudia or Claudia Procules of Judea is recognised as a saint by both the Eastern Orthodox and Ethiopian Orthodox Churches. Tonigh's play centres on what she might have been feeling at the time of the crucifixion.