Judas's Tale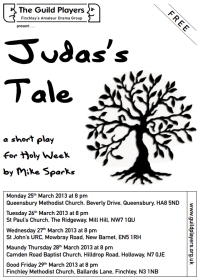 a short play for Holy Week by Mike Sparks
March 2013
Monday 25th at 8 pm
Queensbury Methodist Church, Beverly Drive, Queensbury, HA8 5ND
Tuesday 26th at 8 pm
St Paul's Church, The Ridgeway, Mill Hill, NW7 1QU
Wednesday 27th at 8 pm
St John's URC, Mowbray Road, New Barnet, EN5 1RH
Maundy Thursday 28th at 8 pm
Camden Road Baptist Church, Hilldrop Road, Holloway, N7 0JE
Good Friday 29th at 8 pm
Finchley Methodist Church, Ballards Lane, Finchley, N3 1NB
Setting
The action of the play takes place in an interview room in Jerusalem Central Police Station the day after Good Friday.
Cast
Simone the Olive Grower
Claire Armstrong
Police Inspector
Jenna Byers
Police Constable
David Constable
Barabbas
Mike Sparks
Mary
Caroline Knell
Nathaniel
Stephen Sewell
Production Team
Director
Claire Armstrong
Technical support
Andy Higgins
Martin Higgins
Publicity
David Constable
Singer
Mike Sparks
Prompt
Sue Stadler
Programme Notes
Judas's Tale is the latest in a series of one act pieces examining some of the events and personal feelings which surrounded the Good Friday story.
Attempt is made in all of them to try and reveal what effect these events might have had on the lives of ordinary people at the time, and how some of those more closely involved might have felt inclined to act.
Whist attempt is made to stick as closely as possible to the well known story, much is in the mind and imagination of the writer and, hopefully through the passge of the play, in the thoughts of the audience member also.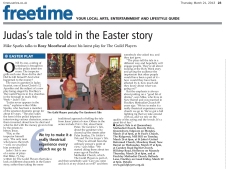 A feature about Mike Sparks & The Guild Players Easter Plays appeared in the Barnet Times on 21 March 2013