Aftermath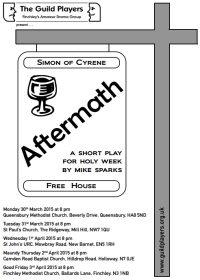 a short play for Holy Week by Mike Sparks
March/April 2015
Monday 30th at 8 pm
Queensbury Methodist Church, Beverly Drive, Queensbury, HA8 5ND
Tuesday 31st at 8 pm
St Paul's Church, The Ridgeway, Mill Hill, NW7 1QU
Wednesday 1st at 8 pm
St John's URC, Mowbray Road, New Barnet, EN5 1RH
Maundy Thursday 2nd at 8 pm
Camden Road Baptist Church, Hilldrop Road, Holloway, N7 0JE
Good Friday 3rd at 8 pm
Finchley Methodist Church, Ballards Lane, Finchley, N3 1NB
Setting
The play is set in the public bar of The Shepherd and the Crook in central Jerusalem some days after the crucifixion.
Cast
Jacob, the stallholder
Paul Sparks
Matthias, the donkey hirer
Ari Gnanamuttu
Rebecca, the street cleaner
Sarah Beaumont
Simon
Steven Sewell
Innkeeper
Mike Sparks
Production Team
Directed
by the cast
Technical
Andy Higgins
Martin Higgins
Publicity design
David Constable
Programme Notes
The play sets out to examine the situation in which ordinary people may have found themselves when the turmoil around the crucifixion of Christ was beginning to calm down and people could assess the effects it may have upon them.
The story of Simon of Cyrene is an interesting one in that he had only a brief but telling part in the whole crucifixion story. What was he doing in Jerusalem at the time, given that his home was many hundreds of miles away? Why was he chosen from what must have been a very large crowd of people? What effect did his experiences have on him and what did he go on to do?
What is certain is that, whoever had been chosen for the role, it would have been something that remained with them for the rest of their life.
Our play doen't dwell on Simon's backgound or the likely outcome of his experience, but tries to portray him as just another ordinary man alongside others suddenly finding their ordinary lives affected by momentous events.
Aftermath is the tenth of a series of modern passion plays written specially for The Guild Players. Many have been published and used elsewhere here and abroad and can be found on the publisher's website www.lazybeescripts.co.uk