Maps Of The Area
Finchley Methodist Church Hall, Ballards Lane, Finchley, London, N3 1NB
Sketch Map
Click on the thumbnail below for full size version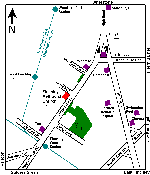 For clarity, not all roads are shown on this simplified map
Detailed Road Maps
Where is Finchley?
Finchley is roughly in the centre of the London Borough of Barnet
Barnet is one of the largest of the 33 local authorities in Greater London and has a population of over 330,000.
It contains the following areas: Chipping Barnet, New Barnet, East Barnet, Friern Barnet, Whetstone, Totteridge, Brunswick Park, Woodside Park, North Finchley, Finchley, East Finchley, Hampstead Garden Suburb, Golders Green, Hendon, Colindale, Burnt Oak, Edgware & Mill Hill.